Database Software
Exportizer Pro
Export Your Database to Various Formats
Exportizer Pro is a database export tool. It allows to browse, edit, and export data to database, file, clipboard, or printer.
This is an extremely cheap but very powerful database export solution which opens tens of database types and supports tens of target formats.
Supported source data types:
ODBC data sources.
File databases like Paradox (.db), dBase (.dbf), FoxPro and Visual FoxPro (.dbf, .dbc), MS Access (.mdb, .accdb), MS Excel (.xls, .xlsx), Interbase (.gdb, .ib), Firebird (.fdb), SQLite, HTML (.html, .htm), .udl, .txt, .csv types.
Databases specified by ADO connection strings.
Oracle, SQL Server, Postgresql, DB2, Informix, Advantage Database Server, SQL Anywhere, MySQL databases.
Supported destination data types:
File formats like text, CSV, JSON, XLS, XLSX, RTF, XML, HTML, PDF, DBF, SLK, SQL script (with INSERT, UPDATE, MERGE, or DELETE statements).
Relational databases of any supported source type (see the list above).
Files of any types from database BLOB and CLOB columns (see below).
For example, it is possible to convert dbf to txt, DB2 to xlsx, dbf to csv, SQLite to Excel, Access to HTML, Excel to Access, Interbase to SQL Server, FDB to Excel, Oracle to PostgreSQL, and much more.
Export Multiple Tables
With Exportizer Pro, it is possible to export multiple database tables during a single export operation.

By default, the tables are exported to destination as one-to-one.

For some destination formats (e.g. HTML, XLSX, or any relational database), it is possible to export several tables to one target table or file.
Export Database Images and Blobs

This tool can automatically detect the most known image types (JPEG, PNG, GIF, BMP, ICO) in BLOB fields and export them, for example, to HTML or PDF. During the export, you can convert BLOB images to another image format.

Generally, any BLOB/CLOB data can be exported into individual files, binary or text, within a single export step. For images, there is a possibility to change format (e.g. convert bitmaps from BLOBs into .png files) on the fly.
Using Calculated Fields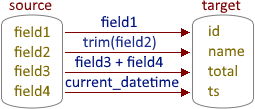 There is an ability to specify the source-to-target field mappings for export session. In the source part of them, you can use either physical fields from the source database or your own calculated fields (i.e. dynamically calculated expressions).
Export Data from Command Line
Any data export operation can be performed either via the program interface or from the command line. Using command line, you can automate your data export operations. The command line mode is also useful for developers, because allows them to launch Exportizer Pro from their own software.
Another great possibility is using action files. An action file contains a set of command line options to perform export opration. This is a flexible and convenient solution for export automation.
You can easily build basic command lines or action files directly from the GUI.
Both the command line and action file can include environment variables. This allows you to to reuse one command line or action file for different data sources and destinations.
Feature
Support in Professional Edition
Support in Standard Edition
(Exportizer Pro)
(Exportizer)
Open file-based database tables (.db, .dbf, .txt, .csv, .xml)
Open tables from multi-table database files like XLS, XLSX, DBC, MDB, ACCDB, HTML, GDB, IB, FDB, UDL, and other multi-table databases like ODBC, Oracle, SQL Server, PostgreSQL, SQLite, MySQL etc.
Browse data
Export to text file (with field separators or fixed length fields)
Export to CSV file
Export to HTML document
Export to XLS file
Export to XML document
Export to RTF document
Export to PDF document
Export to SYLK file
Export to DBF III, IV, V
Export to SQL script
Export to Excel (OLE) workbook
Export to Word (OLE) document
Export to Excel (XLSX) workbook
Export to Excel (XML-based) format
Export to relational database of any supported format, including ODBC, Oracle, SQL Server, PostgreSQL etc.
Export data from all (or selected) files, which are located in one folder, or all (or selected) tables from a multi-table data source, at once (from interface or via command line)
Use extra export modes like Append, Empty+Insert, Update, Append+Update, and Delete
Using template file when exporting to HTML
Using dynamically calculated expressions when exporting to text file
Open and export databases through the command line
Use extra command line options like /Silent, /LogFile, /CloseOnError etc.
Copy data to clipboard
Print data
Build custom SQL queries
Enhanced database grids, which allow to view and manipulate the data in the most convenient way, including sorting by clicking column header, changing row heights, resizing columns, using single record view mode etc.
Filter data according to user's criteria
Export images from BLOB fields
Export BLOB data into individual files
Use extended export logging
Edit data
Version
7.1.2
Release date
2/27/2019
OS
Windows XP/Vista/7/8/10
Language
English
German
French (translated by Anthony Teixeira)
Polish
Slovenian
License type
Shareware
Price
$49
Requirements
-